Selborne Landscape Partnership

The Selborne Landscape Partnership consists of 29 farmers and land managers covering more than 16,000 acres.
"An individual farm might improve the margins around a field to create better space for harvest mice and therefore a better feeding ground for barn owls,"
"But working together the Selborne farmers are creating a network of joined-up habitats, such as field margins, allowing harvest mice and many other species to spread across the landscape & saving them from the threat of local extinction."
Our approach
With Gilbert White's Selborne at its heart, the Selborne Landscape Partnership's aim is to adopt a joined-up approach to nature conservation, building on the existing environmental work that is already being successfully carried out alongside conventional, modern-day farming activities.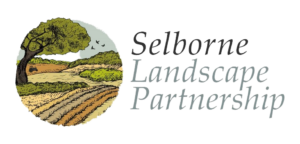 In addition to the 22 farmer members there are seven other group members managing wildlife sites and grounds within the Partnership including: Hampshire and Isle of Wight Wildlife Trust (Noar Hill Nature Reserve); The National Trust (Selborne Common and The Lythes); Woodland Trust (Binswood); Gilbert White's House and Museum; and Chawton House and Park, plus a recreational and leisure enterprise (Blackmoor Golf Course).  We also receive tremendous support from our partners The South Downs National Park Authority, Natural England and the Game and Wildlife Conservation Trust.
Quotes from Andrew Lee, Director of Countryside Management and Policy for the National Park Authority (SDNPA)
Our plans
The countryside in which we either live, work or visit is primarily a managed and farmed landscape. With a more joined-up approach to individual farm conservation activities, our group plans to create wildlife corridors and restore the interconnectivity between habitats across an entire landscape.
This work includes:
Hedgerow management
Establishment of field margins
Planting of seed mixes for winter bird feed and wildflowers for insects
Winter supplementary feeding
Management of ponds and woodlands
"Our farmers and foresters manage the land our drinking water filters through, where much of our wildlife lives and where we walk, ride and cycle for fresh air and enjoyment." "These are just two examples of the range of public benefits they can deliver, beyond Brexit & CAP, given the right opportunity & incentives."
Our flagship species
The farmers within our cluster have selected a number of flagship bird, mammal, insect and amphibian species on which they intend to focus their conservation efforts. By monitoring these species we hope to demonstrate that our conservation work is achieving positive results, whilst also enabling us to better target our future conservation work. Some of the species include:
Harvest mouse
Barn owl
Lapwing
Duke of Burgundy butterly
Our support
We have had tremendous support from local naturalists who have volunteered their time and expertise to help us set up a wildlife survey and monitoring programme. To date species surveys have included yellowhammer, lapwing, winter farmland birds, barn owls, butterflies, insects, amphibians, harvest mice and brown hairstreak counts. We are hugely grateful for the commitment and on-going support of our local volunteers – without whom this simply would not have been possible.
Our future
We are convinced that a collaborative and mutually supportive approach to nature conservation across the Selborne Landscape Partnership's area will deliver what we're seeking — a diverse and vibrant wildlife population.