Earlier this month, the Eastern South Downs Farmers Group met to discuss the potential for a grey partridge recovery project. Joined by grey partridge expert and Game and Wildlife Conservation Trust (GWCT) scientist Francis Buner, the group wanted to see what they would need to do to revive the fortunes of this enigmatic farmland bird.
The morning began with an indoor session where Francis emphasised the importance of getting the farmland habitats right for grey partridge. To thrive they require year round provision including:
Cover to hide in and a plentiful supply of seeds during the winter
Safe areas in which to nest in the spring
Insect rich areas in which to feed in the spring/summer
Cover in the autumn in which to feed and shelter
Francis explained that these habitats need to cover 7-10% of the farm to stand any chance of achieving success, and that the minimum area over which to try such a project is 1000 acres (400ha). This minimum size limit will automatically exclude many farms, but by working together at a landscape scale, farm cluster groups are ideally placed to make such projects possible.
Key habitats that provide the required resources include well managed hedgerows, wild bird seed mixtures, flower rich margins and beetle banks. In many cases these habitats not only provide for grey partridges, but a host of other farmland wildlife such as corn buntings, brown hares and rare arable plants. They can also help the farmer too by hosting insects such as ladybirds, hoverflies and beetles, all of which eat crop pests such as aphids.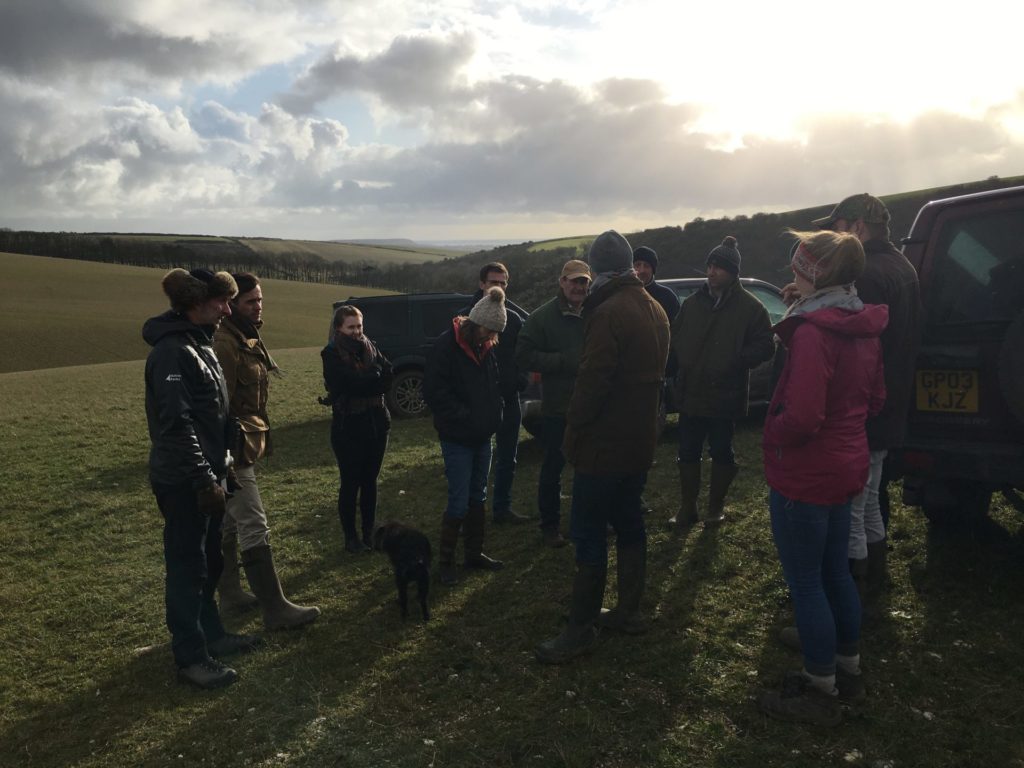 Discussing how to integrate habitat for grey partridges into the farmed landscape
Following a very interesting session hearing about the theory, the group headed up on the Downs near Firle Beacon to see how such a project may work on the ground. It was interesting to see and discuss how the habitats could be fitted within the landscape, not only to benefit grey partridges but also to work with the farmers and the core business of producing food on their farms.
The event sparked lots of interesting discussion and interest within the group. Several members' current agri-environment schemes are due to expire over the next couple of years and they are keen to look at the possibilities of going into new agreements that would really enhance habitats for grey partridges and other farmland wildlife. There is no short term fix and this is something that will take time, but the signs are encouraging so watch this space…………..